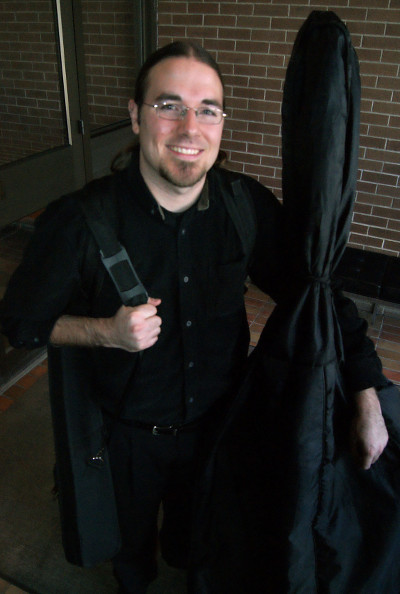 The KMSB is proud to have Matthew Donnelly of New Hamburg as its own composer-in-residence.
A multi-instrumentalist who moves around among clarinet, string bass and various percussion roles in the band, 26-year-old Matt has been composing since high school.
In 2010 he earned a B.Mus in Composition from Wilfrid Laurier University and plans to return to WLU in fall 2013 to study for a performance degree in acoustic string bass.
Matt has introduced several new works to the KMSB repertoire, including Variations on an Irish Tune and River Valley Sketches, which earlier this year won him top prize in the 2013 Canadian Band Association's annual Composition Competition. You can read more at on the Band Association's site and also listen to River Valley Sketches on our Recordings page.
Recent media features on Matt have appeared in the Waterloo Region Record,  as well as the New Hamburg Independent and Music Times.
Matt has also written works for individual band members to perform in community ensembles and he eagerly accepts commissions large or small.
To find out more about Matt's life and work, visit his website www.matthewdonnellymusic.com